August-8-Forecast – Bitcoin News
For the week ending August 8th, we have a very specific recommendation.  Based on our charting, deep analytics and critical viewpoint, we're prepared to say BUY.  And most importantly, BUY now (Friday, August 9th)!
Putting Bitcoin on a BUY recommendation at this point in time is probably going to be seen as too aggressive.  Most marketing analysts and pundits are taking a dimmer view of prospects, and are cautiously saying "maybe".
---
(So, we want you to understand the implications of our recommendation and cannot guarantee results.  We have to state the disclaimer that you can potentially lose all of your investment, or you may profit from our recommendations.  No one can tell for certain until "after" the fact.  Please be warned that none of our recommendations is meant for investment advice, but is merely announced so that you can make an informed decision for yourself and your own investments.)
---
Let's get into it.
To start with, Bitcoin (BTC) had a solid run from the end of July until Monday, August 5th. Increasing about 2,200 coins per USD based not only on technicals but due to external factors like the currency manipulation in China (and subsequent un-manipulating).
The rest of this past week has been rather ho-hum.  The price tried to bull forward to over 12,000 but the longer-term bears pushed it back down. But never back down by much.  Too many bulls running around to let the price fall.
To provide more perspective, here is the latest analysis and chart evaluation from the good folks at Cointelegraph.com. They've put together a massive site and are a great resource for anyone… just getting started, curious and want to know more, been around a bit and want to dig deeper.  I'd urge you to bookmark the site and use it often. Lots and lots of good stuff.
This latest analysis of Bitcoin price and trends comes to the conclusion that the bears are still likely to force the coins per USD mark down.  But there does seem to be evidence of the potential for bulls to take over and push the price up and up again in the short-term at least.  Notice in the first paragraph, a key level that BTC price has to break above is set at $12,000.  Part of what we've seen in the last 2-3 days in the market is an initial surge over $12,000 but then during the day, price falls back down.
Several key pundits in the market also agree with the analysis presented on Cointelegraph.  A couple of things to keep in mind too… Bitcoin trades around the clock.  Even though the recent addition to futures markets… for example, at the Chicago Mercantile Exchange … does force some timing issues every day (contracts settle at 3 p.m. Central USA time, daily), it's still the case that you can buy and/or sell Bitcoin any time of day, from almost anywhere in the world.
---
(Side note:  One of the best places to trade Bitcoin is at a site called Coinbase.com.  If you use my link to Coinbase (click here), you'll get an extra $10 added to your first $100 in trades.  I use Coinbase every day and would be happy to help you get started… signup at the form, bottom of this page.)
---
Honestly…I think most of the major exchanges, markets or analysts are missing a key pattern in the data.  We'll demonstrate below, so hold on to your seats.  Basically this pattern is known as a "bull flag" pattern.  This pattern always points to a significant increase in price (or stock price, for example). In our case, it will be easy to see why we think Bitcoin is due to accelerate and increase well above the 15,000 per USD level in the next couple of weeks.
What you see below is a chart of the Bitcoin price per USD from the beginning of April this year through and including today's price (called at closing, 3 p.m. Central).  This type of chart is know as a Candle Chart.  As you can see by the two parallel lines on the right-hand side, many use this type of chart to look at trends and other technical patterns in the data. If we can figure out what patterns are dominant, then based on historical knowledge of what happens next, we have a good foundation for our forecast.
As mentioned, CoinTelegraph and other pundits would have you focus on the blue trend line at the top of the chart, using that to suggest that Bitcoin is subject to a longer-term declining trend.
We added the bottom blue line so that you can see what sort of trading range BTC has been in for the past few weeks.
Notice at the end of the price data, the top of the trend line was "broken" by the top price of Bitcoin during the last two days.  This is what people are using to suggest that IF Bitcoin can push over 12,000 and sustain that level then possible increases in price will result.
That by itself is not a bad forecast.  One of the things you learn when you start using technical analysis is that there are often several patterns in the data.  We're about to show you one example.
From our friends at SpeedTrader.com (another fantastic site!) take a look at the chart below for an illustration of a "bull flag" chart.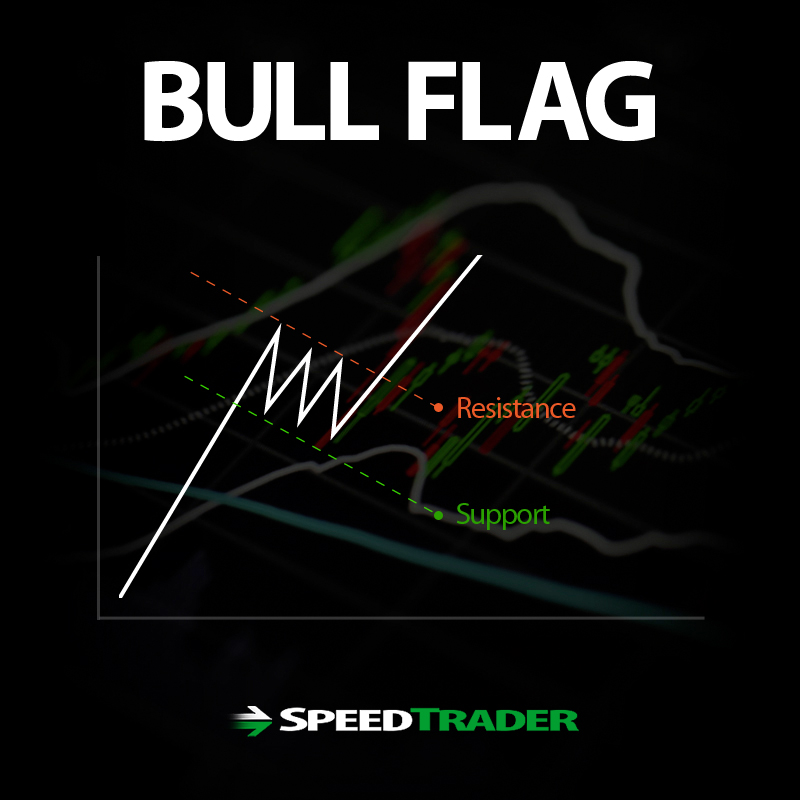 Referring back to our BTC chart, we've already drawn the resistance and support levels… the two blue lines. If there is a "bull flag" pattern in the data, we should be able to see it.  Basically we're looking for something like the following… most importantly, the pole and flag formations.  Following buy recommendations that spur increases in price, another pole and flag formation may occur.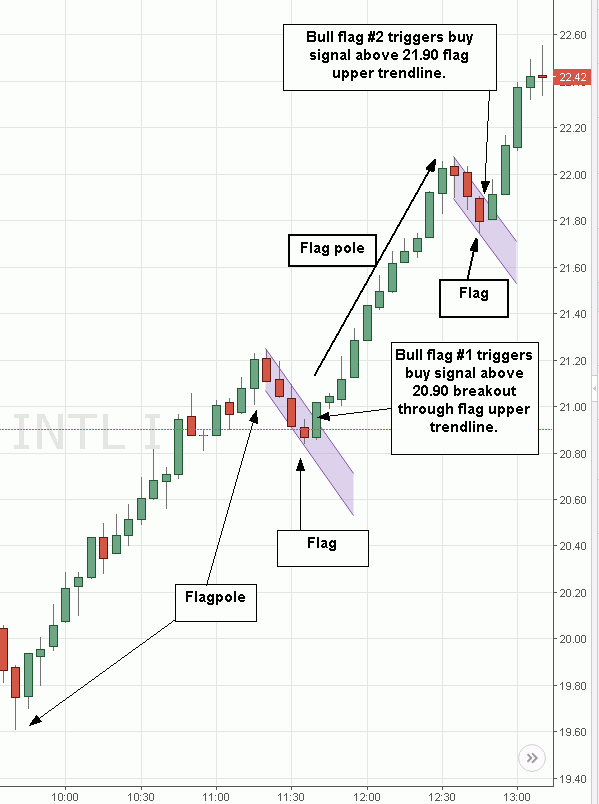 In fact, you can see 3 distinct "flag and pole" formations in the latest Bitcoin price data.  We've added those flags to the chart below.
These flags suggest a traditional "bull flag" formation… the recent increase in BTC per USD was affected by external factors (China's currency manipulation) that is true, but nonetheless does represent a bona fide breakout from that "bull flag".
This is primarily why we say BUY Bitcoin and BUY it now!  We're likely to see the price go up from here.
And we know there is always, always symmetry in the markets.  Based on that idea, it took about 25 days for the first "pole" to form, from around June 5th until June 30th or so.
In the latest run up, Bitcoin price started increasing out of the last flag formation on about August 1st.  If symmetry holds, then we have about 25 days, or until August 26th to continue to see increases in BTC per USD.
Doing some basic math and calculations on the increase we've seen so far, that extended period of increases would translate to a BTC level of just over 15,000 on or before August 22nd.
Tomorrow (Friday, August 9th) should be a very interesting day in Bitcoin markets.  We're most likely to see some increase in price, especially around but slightly above the 12,000 level.  Honestly though, it's even more exciting to see the potential for BTC over the next few weeks.
We recommend: BUY Bitcoin on Friday, August 9th… hold your purchased coins until August 22. We'll be back to you with the next recommendation by then.
See you on the journey…
Dale Allman
(Full disclosure, I own Bitcoin and plan to purchase more on Friday. Also, I may get paid a very small commission if you sign up for Coinbase.com through my link here.)
To see how you can learn to make money with cryptocurrencies and read more about an expert service, check out Crypto Coin Rankings (click here for more info)
P.S. If you want the next update and recommendation for Bitcoin, send me a note using the form below.